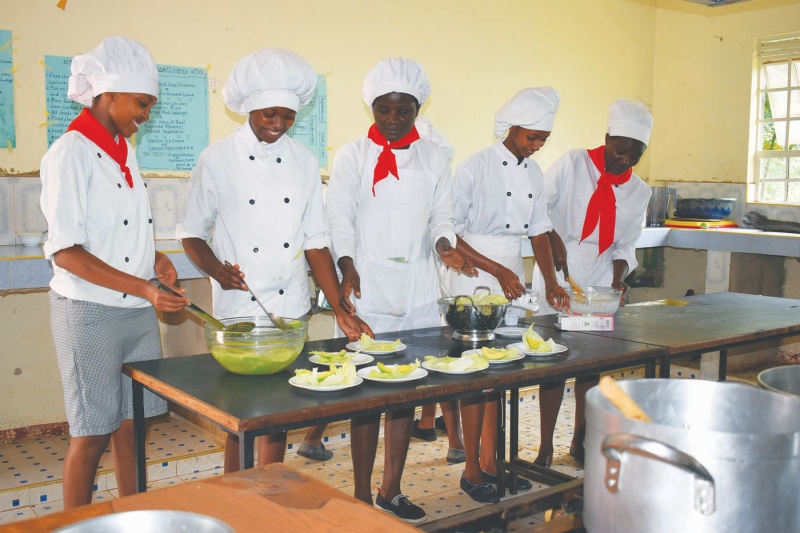 HOSPITALITY DEPARTMENT
The Hospitality department is a vibrant rapidly growing department offering professional training in Food and Beverage production, sales and service. We offer training at both diploma and certificate level.
Diploma in Food and Beverage.
The department offers hands-on training which give our trainees relevant experience, which they use when they start working in the hospitality industry. On completion of the course, the trainees can work as waiters, chefs, supervisors and managers in welfare catering institutions, restaurants and hotels or they can start their own catering businesses.
The Food and Beverage Sales and Service courses aims to provide knowledge and skills, theoretically and practically, in production and service of food and beverages in different types of catering establishments to customers' satisfaction.
Craft Certificate in Food and Beverage
The graduates produce and serve different menus to the required catering standards, applying the hygiene and safety principles required in a catering establishment. They demonstrate ability to use and care for tools and equipment used in the catering industry
Mode of Delivery
The mode of delivery will be structured course work, practical sessions and industrial attachment, all providing the student with invaluable experiences and knowledge of technical skills.
The department has 16 highly qualified and dedicated PSC trainers as well as 2 technicians. Our staff aspires to produce graduates who meet the changing requirements in the hospitality industry.